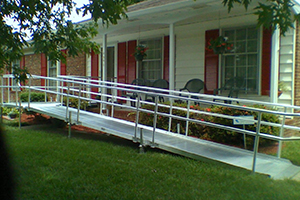 Wheelchair Ramp Design and Consultation Richmond
The design of a portable wheelchair ramp is just as important as the sturdiness of the materials used. Wheelchair ramps have to be as safe as possible. They also should be designed perfectly so they are easy to use and fit the space right.
Richmond Ramps doesn't just have wheelchair ramps for sale. We provide an expert consultation and design at your location whether it's a home, business, or VA hospital.
This is the type of personal service we give to all our customers. Give us a call today and let us know what you need. We'll make an appointment for your wheelchair ramp consultation.
100% ADA Compliant Wheelchair Ramps
Indoor Ramp Design
Parking Lot Ramp Design
Outdoor Ramp Design
Your Wheelchair Ramp Consultation
Richmond Ramps does everything possible to ensure you get the perfect wheelchair ramp for your home or commercial business. This is why we start the process with a consultation.
We will listen to your needs and gather specific information about the layout, space, and location where the ramp will be installed.
We show you the wheelchair ramp designs we have for sale and offer you customization options. We take a good look at the architecture of the home or building exterior. For indoor ramps, we gather all the same information. This helps you find the right style to go with the aesthetics.
When you settle on the one for you, we figure out the wheelchair ramp size and layout. This ensures that it fits the space perfectly and is easy to use.
Wheelchair Ramp Design
Once all the information is gathered, we begin the design of your wheelchair ramp. Our
Richmond accessibility ramp experts
know how to make it fit right and look beautiful.
All our ramps are ADA compliant. They are well built with proper construction.
All our ramps are portable so they can be moved. We design wheelchair ramps for all types of businesses and homes.
Churches
VA Hospitals
Schools
Medical Facilities
Offices
Retail Stores
Restaurants
Portable Buildings
Mobile Homes
Constructed Homes
Split Level Homes
Accessibility Ramp Services in Virginia
To get in contact with Richmond Ramps please call (804) 977-1784 or complete our
Online Request Form