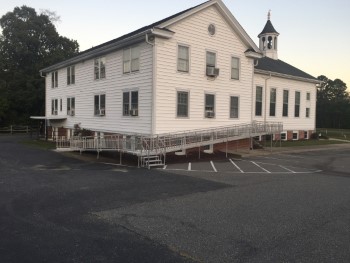 Choosing from commercial ramp systems can feel overwhelming. There aren't just various options for you, you even need to think about is length.
So many details go into picking the right ramp and then you still have to take ADA compliance into consideration. There's no room for picking a ramp based on trying to save money; you need to choose based on what requirements are in place.
Any other detail is a secondary thought when the real concern is compliance. Make good choices so you can take care of your clients while still meeting the ADA compliance requirements.
Choosing the Proper Ramp Length & More
It may not sound like a big deal but length is one of the most important details that go into picking just the right ramp. If the ramp is too short it will result in a steep grade which is a problem because:
Dangerous
Hard to Navigate
Worse in Poor Weather
Liability
Against ADA Regulations
The point of having a ramp is having one in place that makes it safe and easy for users. It needs to be easy for users to navigate and if the ramp isn't the correct length, that's not the environment you're creating.
This is especially true in poor weather conditions. The ramp is a high risk as it is but add rain, snow, or ice and it only increases the risk for users.
That makes it seem like the easy solution is to just pick a longer ramp; it will decrease the grade and make it easier for regular use. However, sometimes that's not possible, due to property size or layout.
Here's What You Need to Know
You should be working with a professional to get the right size and ramp for yoru needs, but here are a few things to keep in mind:
It starts with the vertical rise you're attempting to overcome.
Factor in the available distance without obstruction. This can be accomplished by measuring straight out from the highest point.
This is how you come up with the total usable width of the area.
Of course, the other main factor is the material used. You have options like wooden and aluminum. All of this leads up to professional ramp installation and that means finding the right company to partner with. For locals here, the company to trust is Richmond Ramps.
For the best results possible from a commercial ramp installation, give the team here at Richmond Ramps a call. Our job is to provide you with the service you need and that includes helping you make the right choice.